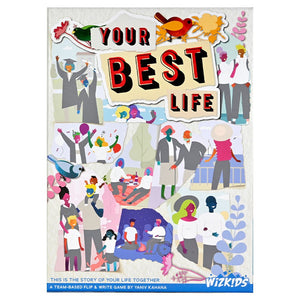 Will you go on vacation with each other, or build the house of your dreams? Will you raise a big family or do you prefer to party with friends every evening? Why not both?! Go ahead, try to have it all!
Your Best Life is a flip & write life story game. Playing as couples and/or singles, players will manage their Happiness and Joy as they experience various choices in their lives. Each turn, players choose cards with the actions that will build their character and family unit. Players will mark their actions on their individual and/or family sheets in order to "live" the most successful life!
Flip! - Reveal new life choices every turn!
Write! - Choose a different path every game!
Bond! - Share your life with your partner!
Players can choose to invest across a myriad of self-improvements relating to Education, Creativity, Business, Friendship, Nutrition, and even Romance! Take vacations with family, friends, or on your own! Experience both the stress and joy children can bring, and even spend time with their pets! Invite players to your important life events with customizable Invitation Cards!
Balance Health, Knowledge, Social Skills, Finances, Time and even a little bit of luck to come out on top. After ten rounds, all players will score their Character and family sheets. The player with the most Life Achievement points wins!
Your Best Life plays from 1-8 players! Players can play in couples of two, or as singles, and you can even mix and match!
There is also a solo or co-op mode that can be enjoyed by a single player or couple! Live your Best Life whenever you choose with Solo/Co-Op mode! Play the game with the same rules and score yourself against the results on the included table play any time!
Live your best life!
Contents:
152 Cards
8 Erasable Character Sheets
8 Erasable Family Sheets (Couples on one side, Singles on the other!)
8 Action Tokens
4 Stress Dice
8 Markers