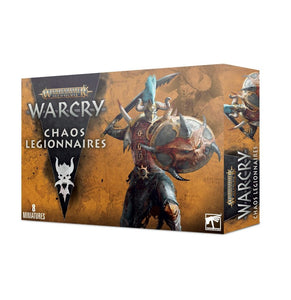 This warband set allows you to bring these armoured elites to battle, containing:
- Eight multipart plastic Chaos Legionnaires – 1x Decuriarch, 1x Mutandor with Beast Spear, 3x Hornhelms (each with a choice of Darkiron Mace or Steelbite Axe), and 3x Hornshields (each with a choice of Axe, Mace, or Sword), as well as cosmetic options like alternate heads and dagger accessories for each model
- A Chaos Legionnaires abilities card, allowing you to unleash the distinctive and deadly battle tactics of this warband in your games of Warcry (in , French, Italian, German, Spanish, Chinese, Japanese, and Russian)
- Seven fighter cards for keeping track of your rules at a glance, plus two wound divider cards
This warband can also be used as a complete unit in Slaves to Darkness armies for Warhammer Age of Sigmar. Rules for using this unit in your games of Warhammer Age of Sigmar are available to download for free from the Warhammer Community website.
This set comprises 116 plastic components, and is supplied with 5x Citadel 32mm Round Bases and 5x Citadel 28.5mm Round Bases. These miniatures are supplied unpainted and require assembly – we recommend using Citadel Plastic Glue and Citadel paints.