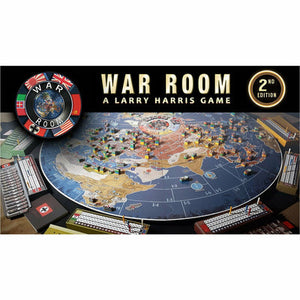 WHAT MAKES WAR ROOM SO SPECIAL?
HEAVY PLAYER INTERACTION
TEAM-BASED COOPERATION... SECRETLY PLOT AND SCHEME!
EASY TO LEARN, TRICKY TO MASTER
SIMPLE, YET DEEP CHESS-LIKE ANTICIPATION OF ENEMY MOVEMENT!
EXCITING, RICH HISTORICAL THEME OF WWII
YOU WILL LIKELY BE SWEATING BULLETS UNDER THE PRESSURE!
LOW DOWNTIME, SIMULTANEOUS PLANNING
PLAN MOVEMENT AND PRODUCTION ORDERS SIMULTANEOUSLY!
VARIABLE SCOPE AND NON-REPETITIVE PLAY