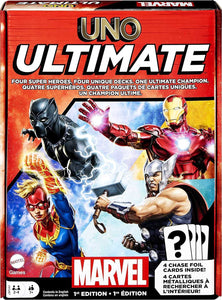 Discover which Superheroes have met their match with the UNO Ultimate Marvel card game!
Each Superhero character plays with special rules and powers in their deck -there are 4 Superheroes to choose from!
As in the classic UNO game, players match colors, numbers and symbols to the card on top of the discard pile -and can use their special powers on every turn!
"Event" and "Enemy" Cards from the Danger Deck can really change the game!
Includes 4 collectible, never-before-seen Foil Character Cards which players can keep and collect or put in the game itself for some added shine!