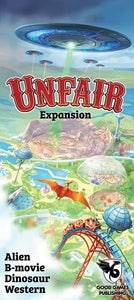 Alien, B-movie, Dinosaur, Western
Build the cities greatest theme park, whatever it takes. Mix in 4 new expansion theme packs — Alien, B-movie, Dinosaur and Western — with Unfair's 6 original theme packs.
Mid weight strategy gamers looking for flexible and strategic gameplay and even greater replayability. Great for couples and regular game groups looking to expand their Unfair experience.
4 new theme packs adding major new strategies and combinations
Enables over 200 variant subgames.
5 new optional 'game changers' reshape key game rules.
Panoramic box display with base game.