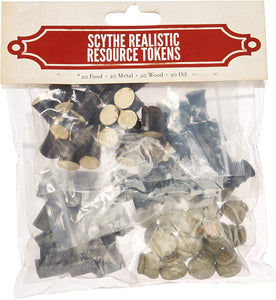 Stonemaier Games Scythe: Realistic Resources
These realistic resource tokens replace the wooden tokens in the retail, special edition, and premium versions of Scythe. They include 80 tokens (20 each) for oil, wood, metal, and food, and they're made out of resin and metal (depending on the token).
For international orders, please contact your preferred retailer (local or online) if you'd like to order this product in order to avoid high shipping costs and customs fees. In Europe, Board Game Extras is very good at carrying all of our accessories.