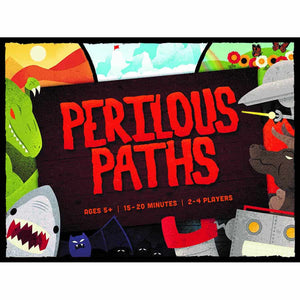 Which Path will you choose?
Follow the mysterious paths through the land of Peril to find your way home. Choose wisely, as these paths aren't for the faint of heart. Danger and misfortune lurk around every curve in, PERILOUS PATHS!
How to play:
Simply pick a card and move the number of spaces forward or backwards to try to get home, but be careful, some cards send you into peril.
Game Contents:
• 1 Game board
• 4 Character tokens
• 88 Cards
• 1 Rulebook