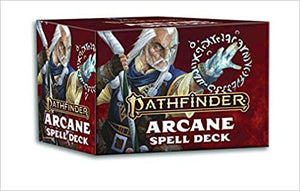 Pathfinder, Second Edition: Spell Cards- Arcane.
Magic explodes from your fingertips when you hold Pathfinder Spell Cards in hand! This must-have accessory for arcane spellcasters contains more than 200 spell reference cards, covering every arcane spell in the Pathfinder Core Rulebook, giving players immediate access to key game details without the need to slow down play to flip through a giant book.
Players can easily arrange and plan their spells within moments, and a quick scan of the cards presents a caster's tactical options at a glance. Take your first step toward arcane mastery with Pathfinder Spell Cards, and never go into a fight unprepared again!
Sales Points
Answering more than a decade of player and retailer requests, Pathfinder Spell Cards are among the most-demanded accessories we've ever made.
Spell cards are popular accessories with players, who outnumber Game Masters 5 to 1, creating a huge potential market of customers (because GMs will want them too!).
Spells feature in every Pathfinder game session, and cutting down page flipping and book reference on events that occur every combat round is a huge benefit to all Pathfinder campaigns.
Size: 5 x 5 x 2.5 inches.
Page Count: 246-card deck.