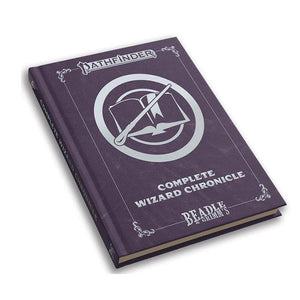 Combination rulebook and journal for the Wizard character class in the Pathfinder game system. Full-size hardcover in PU leather.
You are the Wizard. This is your story.
Let the others fight it out in the trenches, or skulk around in the shadow, or borrow magic from their gods. You bring learning and power. The Complete Wizard Chronicle is your spell book.
A 3 part book:
★ Part 1: A 20-25 page character sheet with enough room to really map out every facet of your character.
★ Part 2: All the rules from the Player's Guide and Advanced Player's Guide for this class, and only this class. Includes spell, feats, and original B&G content.
★ Part 3: A big journal full of original art and a fold out page for you to build your keep/temple/tree fort/thieves guild etc.
All in a vegan leather cover with book ribbons and lay-flat binding. This is a sturdy book that will survive longer than your character will.
AND, includes a dry erase pull-out board for keeping track of things like spell slots, hit points, and inspiration.