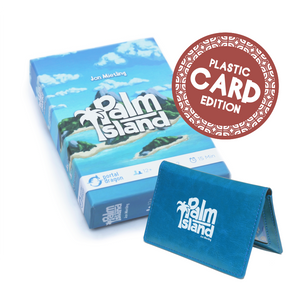 The plastic card edition comes with plastic cards and a faux leather wallet inside a 2 piece cardboard box.
Palm Island is a game that you can take anywhere. Sitting, standing, waiting, riding, flying, relaxing, alone or together you can play Palm Island, no table required.
Using a deck-transforming mechanic, a player uses just 17 cards over 8 rounds to shape their island and overcome its unique challenges. Store resources to pay for upgrades and upgrade buildings to access new abilities. Each decision you make will alter your village from round to round. Complete your objectives within 8 rounds and calculate your score. Palm Island is a solo game with multiplayer variants. The game comes with enough cards for 2 players but multiple games can be combined to support even more.