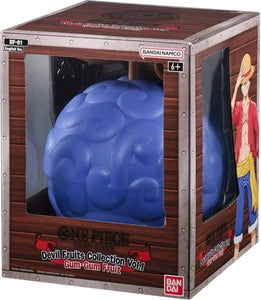 Comes in a Devil Fruit Case!
This product incorporates many One Piece elements to catch the eye and entice purchasers.
The Devil Fruit case holds Boosters and other card products, making for the ultimate, musthave addition to any shelf!
Includes 2 Randomly Selected DON!! Cards and DON!! Sleeves with New Designs!
Each set includes 2 randomly selected DON!! cards/sleeves with exclusive designs, encouraging multiple purchases to collect them all!
October Rollout to Capture the One Piece Fan Base!
This product will drop in October, when the market starts hitting its peak in line with the holiday season.
Looking forward, we'll continue targeting the One Piece fan base with the release of even more products! Contents
• Booster Pack [OP-03] x 1
• Booster Pack [OP-04] x 2
• DON!! Card x 1 (2 types)
• Sleeve (10pcs set) x 1 (2 types)
Configuration
♦ 18 Sets per Case