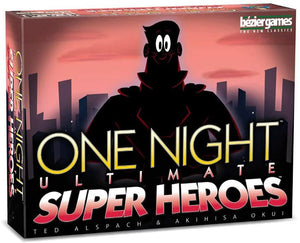 In One Night Ultimate Super Heroes, players take on the roles of heroes and villains, each with amazing superpowers. The evil trio of Rapscallion, Dr. Peeker, and Henchman#7 are intent on getting away with their crimes. Meanwhile, the members of the Super Club Of Overt Powers (SCOOP), including Ricochet Rhino, Self-Awareness Girl, Detector, Role Retreiver, and Switcheroo, are all out to stop them. Then there's the Mad Scientist and his Intern, who have their own agenda. And Family Man, who will do anything to save his family, even if means that the bad guys get away! Super Heroes is based on the best selling One Night Ultimate Werewolf series, but with a totally different feel and a unique set of roles that allows players to quickly dive into this super-powered game.
The best way to start playing One Night!
Designed so the entire family (and lots of friends) can play together
Sixteen unique roles that give all players unique abilities each night (and day)
Detailed reference guide to the roles and abilities
Free app that runs the game for you; sit down and start playing in minutes!
Contents:
16 role cards
16 tokens
rules
a getting started guide
free app (optional) that runs the game