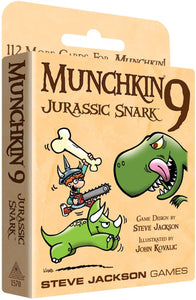 Brand Steve Jackson Games
Item Dimensions LxWxH 3.63 x 0.75 x 4.63 inches
Number of Game Players 6
About this item
Includes 112 cards and a rule sheet.
Designed by lifelong dinosaur Freak Steve Jackson and illustrated by John Kovalic.
Munchkin games provide 1 to 2 hours of game time for 3 to 6 players ages 10 and up.
This is an expansion for Munchkin; it is not a stand-alone game.