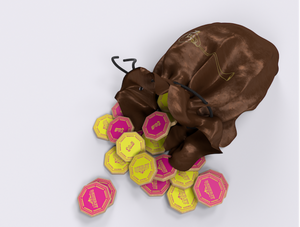 Carrots and sticks. A HoLE must have both to hand if they're to pound any discipline and history into the soft heads of today's youth. Issue these tokens from behind your Head of Light Entertainment screen to track which Participants have been naughty and which have been terribly naughty…and when a Dire Consequence is called for.
Specs:
-20 octagonal, wooden, screen-printed Merit tokens
-20 octagonal ,wooden, screen-printed Demerit tokens
-Token dimensions: 1.57 x 0.16 x 0.16 inches (40 x 40 x 4 mm).
-Includes a brown velvet drawstring bag with embroidered gold butt trumpeter image.
Note: Not required for gameplay. You can, of course, use pennies or home-made chits of some kind if you aren't concerned with things liked improved learning outcomes among Participants.