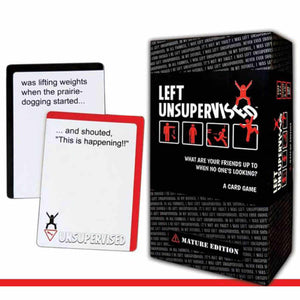 What Are You and Your Friends Up To When No One's Looking?
A Party Game
Two separate editions, same simple gameplay, and it's all about YOU!
We've fixed the typical prompt/response card game and made it all about you and your friends! The judge rolls the custom die to see who is in the hot seat, and everyone plays cards about that player!
See also:
TPT0701 — Left Unsupervised (Family Edition)
Includes 400 cards and custom 12-sided die.