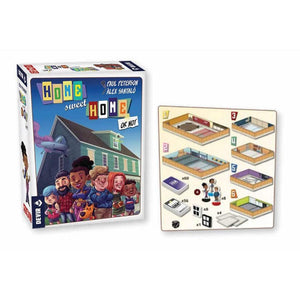 Company's coming! Gotta clean up the house quick! Home Sweet Home... Or Not is a cooperative board game from Paul Peterson, with a Pick Up & Deliver mechanic in which 5 players collaborate to complete one of the 5 missions included in the game. Home Sweet Home... Or Not delivers fun and crazy games for the whole family via 5 scenarios that you will want to play one after the other.
&10112; Cooperative family game with a spectacular table presence, with different modules that form the rooms of the house.
&10113; Contains 5 different scenarios in which we experience crazy adventures.
&10114; Created by Paul Peterson, renowned designer of the hits Smash Up and Guillotine. Can we untangle the messes made in the house?
★ Cooperative
★ Modular Board
★ Pick Up & Deliver