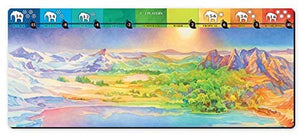 A NEOPRENE MAT PERFECT FOR YOUR CLIMATE GAME - This Evolution Climate playmat is a double-sided neoprene mat designed to replace your Climate game board. One side is for 2-3 players, while the other is for 4-6 players.
BRIGHT, VIBRANT ARTWORK – At 21" x 8.75", this mat enhances the game's vivid artwork from world-renown nature artist Catherine Hamilton.
USE WITH EVOLUTION CLIMATE: The Climate Playmat is used with the Evolution Climate game. Otherwise, it makes an awesome mousepad!
ADAPT YOUR SPECIES: Adapt your species in a dynamic ecosystem where food is scarce, and the climate can swing between scorching hot and icy cold.
CONVERT YOUR EVOLUTION CLIMATE GAME: The Evolution: CLIMATE Playmat replaces the Evolution: CLIMATE game board. Only use if you have the Evolution: CLIMATE base game to start (available in our brand store).