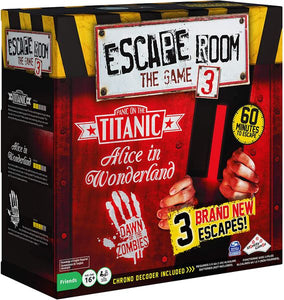 Can you keep your cool under pressure? Escape Room The Game from Spin Master brings the thrill and mystery of an escape room to your home. There's a way out of each seemingly impossible scenario - it's up to you and your team of three to five players to figure it out in time. Solve puzzles, find clues, and work together to find a way out of the room before the clock runs out! The Chrono Decoder counts down from 60 minutes and creates a real escape room atmosphere. Play one of three different exciting escape room adventures with varying levels of difficulty: Secret Agent, The Dentist, and Space Station. You win or lose together with Escape Room The Game.
This is the US (and maybe North American) release of Escape Room: The Game 2
Note that the UK release is titled Escape Room: The Game 2 while the US release is Escape Room: The Game 3.
It has three games instead of four that were included in other European/International versions.
Contains:
Panic on the Titanic, Dawn of the Zombies, and Alice in Wonderland
It does not contain Another Dimension.