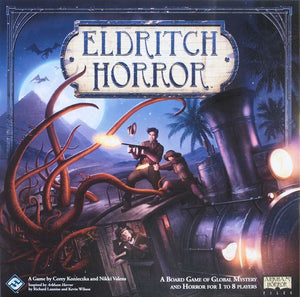 Across the globe, ancient evil is stirring. Now, you and your trusted circle of colleagues must travel around the world, working against all odds to hold back the approaching horror. Foul monsters, brutal encounters, and obscure mysteries will take you to your limit and beyond. All the while, you and your fellow investigators must unravel the otherworldy mysteries scattered around the globe in order to push back the gathering mayhem that threatens to overwhelm humanity. The end draws near! Do you have the courage to prevent global destruction?
Eldritch Horror is a co-operative game of terror and adventure in which one to eight players take the roles of globetrotting investigators working to solve mysteries, gather clues, and protect the world from an Ancient One – that is, an elder being intent on destroying our world. Each Ancient One comes with its own unique decks of Mystery and Research cards, which draw you deeper into the lore surrounding each loathsome creature. Discover the true name of Azathoth or battle Cthulhu on the high seas.
While the tasks on these Mystery cards (along with the locations of otherworldly gates, menacing monsters, and helpful clues) will often inform both your travel plans and the dangers you confront, you can find adventure anywhere in the world...even where you least expect it. It is during the Encounter Phase of each turn that players resolve combat or, alternatively, build their investigators' personal stories by reading an encounter narrative from one of several types of Encounter cards. You might go head to head with a monster in Istanbul or find yourself in a tough spot with the crime syndicate in a major city. Maybe you will embark on an expedition to the Pyramids or research a clue you uncover in the unnamed wilderness. You may even find your way through a gate and explore a dimension beyond time and space.