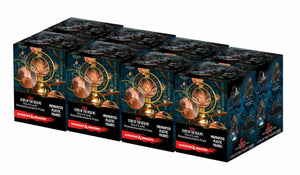 In this monstrous collection, players will find many of the creatures found in Volo's Guide to Monsters and Mordenkainen's Tome of Foes. Prepare to have your life blood's stolen from the dreaded Death Kiss, Experience the Eladrin Elves in each of their four seasons: Fall, Spring, Summer, and Winter! Feel the madness of long-forgotten secrets as you look upon the Allip. Dare you lay claim to the Eidolon Possessed Sacred Statue's other eye?
Collect all 44 figures from Volo & Mordenkainen's Foes, the newest set of randomly sorted monsters and races in our exciting line of D&D miniatures, Icons of the Realms.
• D&D Icons of the Realms: Volo & Mordenkainen's Foes Standard Boosters each contain four figures total: 1 Large figure and 3 Medium or Small figures.