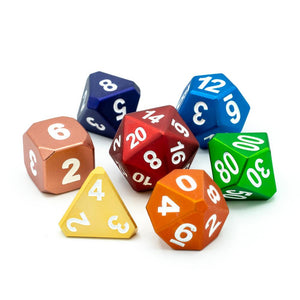 This is a rainbow mix set that has one of each of our frosted metal dice. The specific colors are randomized for each set and may not match the die and color featured in the picture.
Forge Dice are designed to increase tumbling by adding additional faces to all dice which naturally have ten or less.
FEATURES
• Excellent heft, and authoritative feel when rolling
• Forge dice corners are softened for beauty, improve rolling, and kindness to tables
• Solid metal dice, die-cast non-toxic Zinc alloy
• Standard 7 piece RPG dice set, standard size, sizing details below
DICE CASE INCLUDED
All our metal sets come with a protective case and a foam insert.