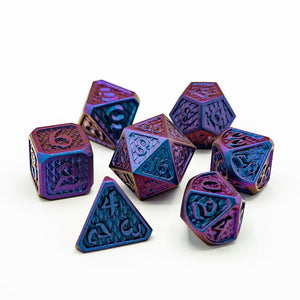 A Classic Re-imagined...
It is said that Lunar Abyss Dragons burst forth on new moon nights, summoned by those foolish or fanatic enough to stare into the deep void of space with a fervent intensity. Such converging fixation fully untethers the weakened bindings of the lunar seal, unleashing dragons in a farrago of forms and hues for a hellish night of destruction and chaos that only dawn's rays can dispel. Daylight offers only a brief and bitter respite from the chaos, however, for the moon's restored bonds are doomed to release the dragons to rip and rend the fabric of reality again and again until they snuff out even the light of day. Read more Drakona Lore here...
FEATURES
• Detailed in our exclusive Drakona dragonscale inlay and electroplated* with our unique blue and purple Dreamscape colors
• Excellent heft, and authoritative feel when rolling
• Mythica dice corners are softened for beauty, improve rolling, and kindness to tables
• Solid metal dice, die-cast non-toxic Zinc alloy
• Standard 7 piece RPG dice
Also Available in: 11 piece set, single d20, single d6, and Dire d20!
DICE CASE INCLUDED