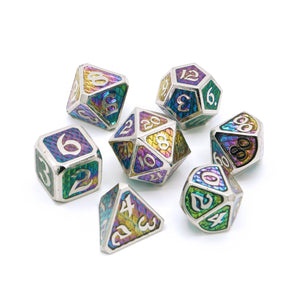 Khaos Aether
The Bringer of Light, Aether, calls home the frigid polar realms where the cosmos touch closest. Guarding a frozen tower, Aether finds material power in the cosmos beyond her earthly domain. Valuing cosmic knowledge and community, she passionately hoards magically imbued items and scrolls within her tower.
FEATURES
• Silver plating with detailed dragonscale inlay with anodized rainbow color, making each color pattern unique
• Excellent heft, and authoritative feel when rolling
• Mythica dice corners are softened for beauty, improve rolling, and kindness to tables
• Solid metal dice, die-cast non-toxic Zinc alloy
• Standard 7 piece RPG dice set, standard size, sizing details below
DICE CASE INCLUDED
All our metal sets come with a protective case.