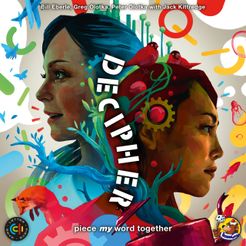 Decipher is a different kind of word game for 2-4 players. Players use 4 different letter pieces to create and solve word puzzles.
In each round a different player builds a secret word puzzle. The others only know which letter pieces are in the secret word and gather clues and points by asking about where letter pieces go. Can you decipher the secret word?
The Letter Piece Game system is a special way to build letters from four different basic shapes. The idea for the Letter Piece Game™ system comes from the game designers of Wordsmith. Decipher includes the same playful semi-transparent colored plastic letter pieces found in Wordsmith. A special plastic insert turns the game box into a game component.