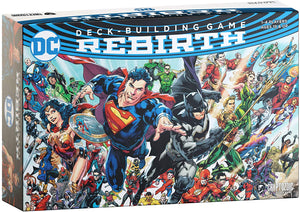 A NEW EVOLUTION: Rebirth is a new evolution of the DC Deck-Building Game, breaking fresh ground by adding linked Campaign Scenarios, character progression, and movement between iconic locations from the DC Universe!
POSITION MATTERS!: Players must move their characters around the board to find the cards they want for their deck and to interfere with the Villain's dastardly plans. When you defeat a Villain, you get a reward, and the Villain is removed from the game. Staying close to your allies will allow them to play Assist cards to help you during your turn.
THE JUSTICE LEAGUE IS BACK!: Players can play as members of the Justice League: Superman, Batman, Wonder Woman, Aquaman, Cyborg, The Flash, Jessica Cruz, or Simon Baz.
KEY FEATURES: Each Scenario includes special rules, new cards, and different Locations. There are even Side Missions that players can take on to gain new cards and repair Locations. The game is played cooperatively, but there are Competitive and Solo Modes as well. *Standalone game, but compatible with all games and expansions in DC Deck-Building Game series.*
ABOUT US: Since 2010, Cryptozoic Entertainment has been dedicated to the concept of "Fans First," striving to develop the most creative and sought-after products for pop culture enthusiasts worldwide. As an entertainment company with a diverse portfolio of licensed and original IPs, its catalog covers a broad spectrum of table top games and collectibles. Our passionate team aims to inspire gamers and collectors all around the globe, while bringing fans as part of the Cryptozoic community.