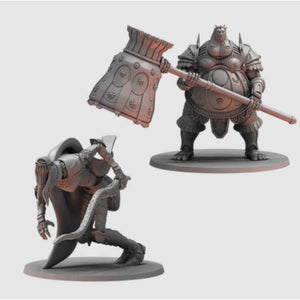 Contains:
• Dancer of the Boreal Valley main boss mini (75mm base)
• Smough main boss mini (75mm base)
• and 2 Double-sided stat cards
Confront not one but TWO iconic bosses from the DARK SOULS video games with this epic boss box.
The Dancer of the Boreal Valley was once a former royal's distant daughter made to dance by the duplicitous Pontiff Sulyvahn. However, it soon became apparent a warrior's lot was her true calling, and she was sent abroad as an Outrider Knight. Though she became little more than a beast, some vestige of her former life as a dancer still remains.
Smough, the Executioner, made up for his lack of grace with an enthusiasm for acts of great violence. His sinister gurgling chuckle has heralded the end for many a promising knight. There were even rumours the Executioner's prodigious strength stemmed from a tendency to devour his victims. But that couldn't possibly be true, could it?
Prepare to die. Unleash two brutal boss encounters on your next RPG night with the gargantuan Dancer of the Boreal Valley & Smough boss box, created for DARK SOULS: The Roleplaying Game.
Inside this box is everything you need to confront two legendary bosses – Smough and the Dancer – at your next RPG session, with two huge, highly detailed minis on 75mm bases, and two 5e-compatible stat cards.
Add these minis to any roleplaying campaign right from the box. Or paint and display them in your cherished display cabinet. The choice is yours!
Will you survive a battle with two of the most formidable foes from the punishing DARK SOULS universe?
★ Dominate the tabletop with a huge Dancer of the Boreal Valley, and Smough mini (both on 75mm bases) in each pack
★ Add two terrifying boss encounters to your next campaign
★ 5e-compatible stat cards let you add these minis to any RPG campaign
★ Engage with the DARK SOULS combat system in full
★ Paint your minis to recreate the DARK SOULS universe on your tabletop