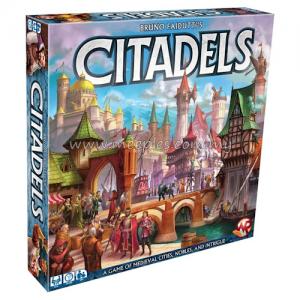 A Game of Medieval Cities, Nobles, and Intrigue!
Citadels is a card game of bluffing, diplomacy, and city-building. The game changes each turn as each player secretly chooses a new role - the Assassin, Thief, Magician, King, Bishop, Merchant, Architect, or Warlord - and the power that comes with it.
You are a medieval ruler trying to complete your city before your opponents can build theirs. Expand your city by adding new districts, but be sure to invest wisely: Some districts are more valuable than others, but cost more gold to build.
The 2016 New Edition of Citadels includes 27 characters — 8 from the original Citadels, 10 from the Dark City expansion, and 9 new ones — along with 30 unique building districts, and the rulebook includes 6 preset lists of characters and districts beyond the starter list, each crafted to encourage a different style and intensity of gameplay.