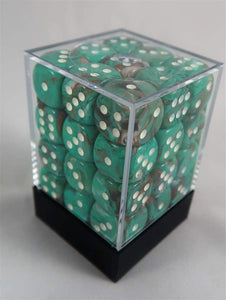 These Marble 12mm round-cornered dice have a great look, feel, and roll. They are numbered 1 to 6 with traditional dice pips, spots, etched into the surface of the dice. Use these dice to play your favorite dice and board games or create your own game. 36 dice and 1 plastic display case included with purchase.
These 12mm dice are smaller than what are often considered standard sized dice (which measure 16mm).
Note: each die is designed to have a unique look. Color and patterns will vary but the overall scheme will remain similar. Material: plastic.
Manufacturer: Chessex
WARNING: CHOKING HAZARD - Small parts. Not for children under 3 years.
Product information
Product Dimensions 3.62 x 1.5 x 1.42 inches
Item Weight .1 lb
14 years and up