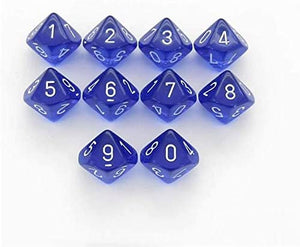 This set of 10 Translucent Chessex dice look, feel, and roll well and will be a great addition to any game or collection. The top number is used on a roll. The edges allow for easy shape recognition and the numbers are about as large as possible on each face. This set includes 10 D10 (ten-sided) dice. Dice come in retail clamshell packaging. Each die measures approximately 16mm tall (measuring height while die is sitting flat). They are ~23mm measuring from point to point.
Manufacturer: Chessex
WARNING: CHOKING HAZARD - Small parts. Not for children under 3 years.
Product information
Product Dimensions 4.13 x 2.76 x 0.79 inches
Item Weight .1 lb
14 years and up