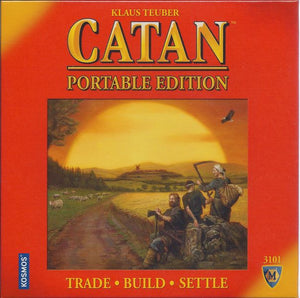 Settlers of Catan Travel Edition is, as the name says, a Travel Edition of The Settlers of Catan.
The rules of the game are the same, but there are some changes between the two editions:
No Expansions: In the Travel Edition it is not possible to add any expansions to the regular game, so it is a 3 or 4 players game only.
Pre-determined Desert location: The hex containing the Desert is always in the middle of the board.
Pre-determined numbers: The numbers for production are in fixed locations on the board. That is a natural follow up to the previous item.
Pre-determined port location: Although the type of port at a given location may vary, the port sites themselves are in fixed locations. So the numbers for production, where a port exists, are always the same, and there is never a port near the Desert.
Snap in bits: The roads, villages and cities are all snapped into the board during game play, so it is difficult to mess with the board. The Robber, however, sits freely on the board, and, as you need somewhere to throw the dice, you may prefer a table upon which to play the Travel Edition (although the box top or box insert could be used as a dice tray).