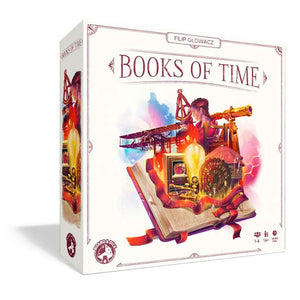 History of humankind has been written down for thousands of years. Our technological achievements, geographical discoveries, and the will to prosper are weaved into intricate threads spread throughout books that tell the story of our time on earth. Now you have the chance to shape this story.
Books of Time puts a unique and exciting twist on tableau building, allowing you to construct three great books, each with their own sets of special abilities that you can write – and create incredible combinations. The story of a civilization is now truly at your fingertips.
Books of Time is a unique tableau-building game, in which you not only select the paths of your progress but also create a ever-changing engine to tell the story of your civilization. You start the game by constructing three ring-binders: three books that you will fill with card-pages as the game progresses.
★ A simple and fast-playing, innovative twist on tableau building and set collection.
★ High quality components used in a unique way: build real books with cards as pages.
★ Immersive art design, which combines impressive illustrations and intuitive graphic design
Contents
• 8 x Industry Cover Tiles
• 8 x Science Cover Tiles
• 8 x Trade Cover Tiles
• 2 x Chronicle Cover Tiles
• 13 x Binder Rings
• 5 x Bookmarks (1 In Each Of The 4 Player Colors And 1 Chronicle Bookmark)
• 24 x Starting Pages
• 72 x Regular Pages
• 23 x Chronicle Pages
• 1 x Civilization Board
• 4 x Player Boards
• 16 x Science Tokens
• 4 x Player Reference Cards (1 Per Player)
• 16 x Industry Objective Tiles
• 16 x Science Objective Tiles
• 16 x Trade Objective Tiles
• 8 x Victory Point Tokens (With 50 Victory Points Printed On One Side, And 100 Victory Points Printed On The Other Side) Track Markers
• 24 x File Tokens
• 36 x Pen Tokens (28x Denomination of 1, 8x Denomination of 5)
• 36 x Paper Tokens (28x Denomination of 1, 8x Denomination of 5)
• 1 x Chronicle Lectern (To Be Assembled From Several Components)
Ages 14+, 1-4 players, 45-60 minutes