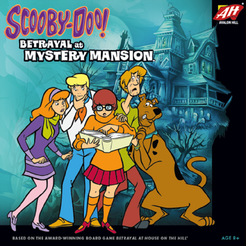 What's Going on at Mystery Mansion? Playing as one of the members of Mystery Inc., you explore Mystery Mansion and its grounds, uncover clues, encounter strange occurrences, and maybe even catch sight of a creepy creature!
When you find enough Clues to help solve the mystery, that's when the Haunt starts, and one player will switch sides to play the role of the Monster! Will you be able to stop them before they carry out their sinister plans?
Based on the award-winning game, Betrayal at House on the Hill, Betrayal at Mystery Mansion offers 25 brand-new haunts that are based on popular Scooby-Doo episodes and movies. Every time you play, it's a new game - making it the perfect family board game addition.