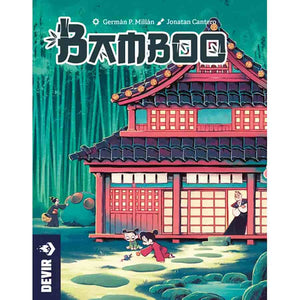 Eat, pray, love... and cultivate bamboo! In Bamboo the players take the role of clans that use the fruits of their labor to care for their families and earn happiness points. It's a game of action management and tile optimization, and it's both deep and accessible. By placing incense offerings in the temple, the players earn the favor of the forest spirits, while at the same time decorating their houses and searching for the perfect balance to bring maximum happiness. Don't miss this masterpiece inspired by the universe of Bitoku!
★ The newest game from the acclaimed creator of Bitoku, Germán P. Millán, and the next title in the Kemushi Saga.
★ Players must keep their house in balance using an innovative game mechanic.
★ Don't be fooled by the medium format box and low price point; this is a game that's easy to learn but full of strategy.