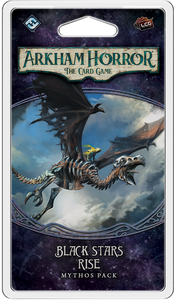 Black Stars Rise is the fifth Mythos pack in The Path to Carcosa cycle to come from Fantasy Flight Games to expand your base Arkham Horror Card Game!
After the first showing of The King in Yellow at the Ward Theatre, located in Arkham, you have been led far from the original path! While your investigations in Arkham have drawn you to a dead end, you see it necessary to expand your search, voyaging across the Atlantic to continue your investigations in France. Your search will take you deep below the Parisian city, exploring the dark and winding catacombs and across to the famous island town of Mont Saint-Michel. You must act quickly though, as a storm draws ever closer and as dark clouds begin to fill the sky, you will start to question whether you will be able to allow your world to survive!
This latest chapter in the Path to Carcosa will bring new player cards to the game, allowing players to further delve into this Lovecraftian universe and face even darker evils that lurk in the darkness!
Player Count: 1-2
Time: 60-120 Minutes
Age: 14+