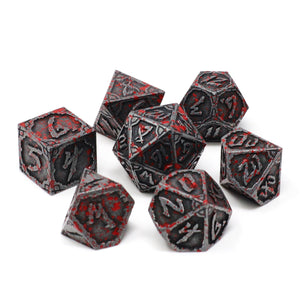 Cryptic sigils and arcane symbols adorn the long-forgotten temple. At the innermost chamber lies an obsidian altar, etched with runes emanating a strange dark power. With trembling hands, the ritualist draws their blade, preparing to break the dark hex upon them.
The dice artificers at Castle Die Hard have been hard at work, and the results are particularly potent. Hexbreaker dice are the perfect addition to any dragon's hoard. These enchanting dice feature arcane emblems at each vertex and are numbered with our otherworldly Hexbreaker font.
This set also unveils our new d4 shape for the first time! A unique top-read die we are coining, "the Archimedean d4." First enumerated by Archimedes himself, the truncated tetrahedron serves not only as a beautiful new d4 shape, but as a devilishly fun new game mechanic. With a 5% chance at a critical roll, your game just got more interesting.
FEATURES
All-New Hexbreaker mold
Dark Iron with flecks of Blood Red
Standard 7-piece RPG
Solid metal dice, die-cast non-toxic Zinc alloy
Features our new Archimedean d4 design