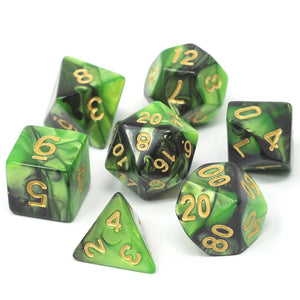 While the rest of the party sleeps, you focus deep into the darkness of the forest. Through the trees you think you see a hint of firelight reflected in pairs of yellow eyes.
FEATURES
• Material: Swirled green and black acrylic
• 7 piece dice set
• Standard, 16mm size
• Numbers painted in gold
A 25% portion of proceeds from this item will go to support our 2022 Pride Month Charities, GLSEN and The Transgender Law Center. Please visit https://www.dieharddice.com/pages/pride for more details and to find more ways that you can support these great causes and the LGBTQIA+ community!