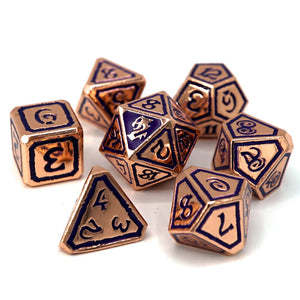 The Storm Forged - Gilded Ruin line of dice is a collaboration between Die Hard Dice and Jake Stormoen's Storm Forged brand. Gilded Ruin glisten like untouched lost treasure, so shiny, so new! The twenty face of the d20 also features a sunken face with the Storm Forged dragon logo.
FEATURES
• Excellent heft and authoritative feel when rolling
• Solid metal dice, die-cast non-toxic Zinc alloy
• Electroplated with ultra bright copper finish
• Each face is hand painted in regal blue
• Standard 7 piece dice set
Queens of Gilded Ruin also available in 11 piece set, single d20, single d6, and a Dire d20!
DICE CASE INCLUDED
All our metal sets come with a protective case.