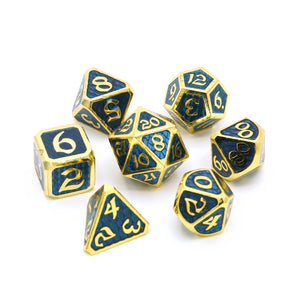 Khaos Erebus
Erebus is every present in dreams, contorting them into twisted nightmares. Estranged from her twin sister, Aether, Erebus thrives in the chaotic forces of darkness. She derives pleasure from causing fear and her treasures are of possession that matter most to her victims: magical items, skulls, and even souls trapped in her twister tower in a desolate land.
FEATURES
• Gold plating with detailed dragonscale inlay with blue anodized color
• Excellent heft, and authoritative feel when rolling
• Mythica dice corners are softened for beauty, improve rolling, and kindness to tables
• Solid metal dice, die-cast non-toxic Zinc alloy
• Standard 7 piece RPG dice set, standard size, sizing details below
DICE CASE INCLUDED
All our metal sets come with a protective case.