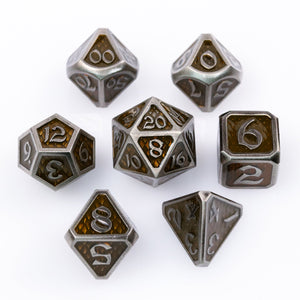 Born from crystal veins filled with latent magic, gemtooth drakes have an affinity for elemental forces which manifest when they bite their prey. Those brave or foolish enough to turn the hunt back on these mighty wyrms may be rewarded with teeth infused with elemental magic. If they survive long enough to harvest them.
FEATURES
• Silver plating with detailed dragonscale inlay with vibrant orange color
• Excellent heft, and authoritative feel when rolling
• Mythica dice corners are softened for beauty, improve rolling, and kindness to tables
• Solid metal dice, die-cast non-toxic Zinc alloy
• Standard 7 piece RPG dice set
See the whole thunder of dragons here!