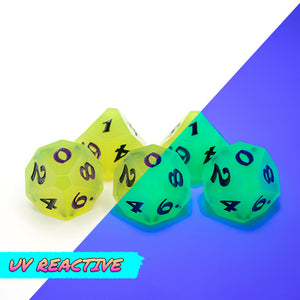 Whether your fangs are of blood or fur, these Hunter's Moon d10 sets are ideal for playing your favorite dark tabletop games! UV-light reactive and uninked, build your own set with Hunter's Moon or mix-and-match with Wolf's Mane!
Created in collaboration with ever-talented Gabe James Games!
FEATURES
Neon yellow translucent d10 dice
Black ink on 1-5 numbers and purple ink on 6-10
Mythica dice corners are softened for beauty, improve rolling, and kindness to tables
Five (5) ten-sided dice included
Premium sizing using our exclusive Avalore style
Made of specialized acrylic polymer
UV light reactive!