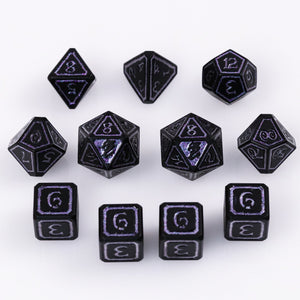 Pursuit of power or loss of kin,
The reason matters not.
Where others cry and seek the light
We sew new life from rot.
The Storm Forged - Mages Guild line of dice is a collaboration between Die Hard Dice and Jake Stormoen's Storm Forged brand. Each Mages Guild set glitters with unseen magic. The twenty face of the d20 also features a sunken face with the Storm Forged dragon logo.
FEATURES
• Plated with a satin black
• Excellent heft and authoritative feel when rolling
• Solid metal dice, die-cast non-toxic Zinc alloy
• 11 piece set includes standard 7 piece set with an additional d20 and 3d6