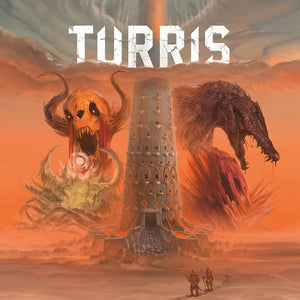 In Turris, players take on the role of tribe leaders in a post-technology society. Exiled from a once glorious city, tribes of scavengers are all that remains of a scientifically advanced humanity.
As the regular offering to the gods was delayed, the ground split open and vile Beasts arose from the Abyss, relentlessly attacking everyone in their path. Driven out of their home and left for dead in the harsh desert, the people have lost all hope, until an unexpected discovery was made.
Turris is a competitive Worker Placement game where players attempt to build the Tower as a final defense mechanism, utilizing the prehistoric technology of divine origin. You assign your Scouts to acquire resources and decipher the data from ancient machinery, all the while being constantly chased (and often devoured) by the unstoppable Beasts. The tribes all follow the Council's directives and complete its missions, but as a tribe leader you know that once the Tower is built and humanity is saved, it will dissolve without strong leadership. In building the Tower, you acquire Prestige Points which represent your standing amongst the tribes. The leader with the most Prestige will take control of the Council and lead humanity into the future — whatever it may be.
Turris uses miniatures that represent the Beasts and Scouts, decks of Mission and Tactics cards, as well as Tarot-sized gold/silver lined Trionfi cards which represent the Tower rooms.